Why it's important
If California were a separate country, our $3.24trillion dollar economy (2022 statistics) would rank as the world's fifth largest. Every day in the Bay Area major corporations and public sector agencies are buying goods and services from companies from around the world. They could be doing business with your firm…
The Bay Area Diversity Business Forum presents important online & in-person events to help centralize and expand outreach into our local diverse communities and help them take advantage of new contracting opportunities. Speakers join us and share local procurement, training and employment opportunities and regional and national options for firms that have the capacity to mobilize across country.
The Bay Area Diversity Business Forum also helps connect large and small firms focusing on finding various goods and services that are readily available within Bay Area diverse communities, so they can spend there first to sustain and grow the diverse businesses.
Have your firm register with us as partners and we will help get the word out about opportunities that exist for the many diverse businesses you are looking for.
Join us and come to our presentations to network and learn more about these opportunities. The Bay Area Diversity Business Forum - Where business takes place the San Francisco Bay Area!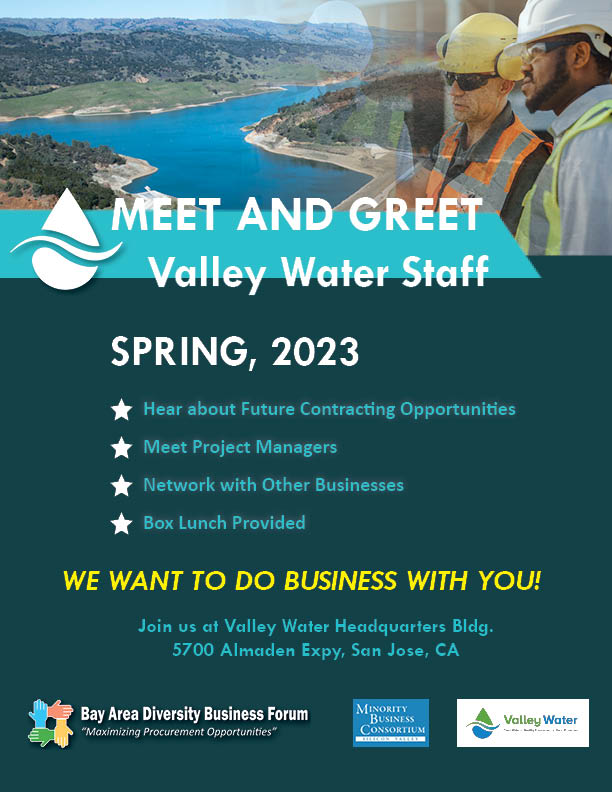 Valley Water – SBE Meet & GreetWalley Water Campus
5700 Almaden Expressway
San Jose, CA
Spring Event (date TBD)
Registration Coming Soon
Enterprises (DBEs), Small Business Enterprises (SBEs), and local businesses to:
• Hear about major contracting opportunities
• Meet Project Managers
• Network with other businesses
• Box Lunch is Provided
Masking is strongly recommended for participants. Limited space available!